Your Child Is About To Have So Much More Fun Playing Guitar Than Ever Before
Improve Your Child's Wellbeing Through A New Way Of Expression!
Do you want your child to learn to play the guitar but you do not know if they are going to stick at it?
Are you starting to look for kids guitar lessons in Devon and you have no idea where to start?
Do you want your child to become self disciplined, happy and confident?
Want to help your child discover their passion and creative side for music and not just watch them watch TV or play video games all day?
Looking for the greatest quality guitar lessons for kids and have had no luck finding that?
Playing a musical instrument can be a very rewarding thing. But maybe you are concerned that your child will not play the guitar for more than a couple months. You want your child to be happy and not have their love for music drained out of them due to taking boring guitar lessons.
Perhaps your child has taken guitar lessons before but you could see they were not getting what they wanted out of it. Like most guitar lessons, the guitar lessons were structured in a one size fits all method which was simply not fun.
In fact it may be why you do not know where to start looking for guitar lessons. Because it is important that you find guitar lessons that are effective and entertaining for your kids.
You may have taken lessons and quit your instruments due to the one size fits all way of learning being boring and not personalised to what you want to do on the instrument. This might have left you frustrated, disappointed and unconfident.
But Your Child Can Have Fun Playing Guitar And Here Is How
I understand how you feel about finding a good teacher to teach your kids. A lot of parents have felt the exact same way.
However, if your child has lessons that is personalised, fun and taught in the best way possible for that child then they may play music for the rest of their lives instead of quitting within 6 months. This is the difference between getting real results and quitting with no results.
"It is important that we found someone who could engage with Reuben, and could relate well to him, and teach him in a way that would be beneficial to Reuben. It's so obvious that he enjoys it because he is excited about it. He has never stuck to anything as long as he has these lessons.
The teacher is reliable, approachable, very supportive towards his pupils, and I feel he is really going to bring out Reuben's musical talent that I know he's got hidden in there somewhere."
Angela- Reuben's mom
We all know that no child is the same. No child learns in the exact same way and wants to do the same things on the guitar. Some children have certain priorities and other children have different needs and goals.
How guitar lessons are done for others will not be the same for your child as children are not machines, they are different human beings with feelings and emotions who all learn in different ways.
And yet...
Most guitar lessons do not support that fact!
Since they are all taught in the exact same way and teaches the same things in the same exact order for all people, most simply get bored after getting little to no results and quit. If any results are gained they are typically not the desired results that the student wants.
But if your child signs up for kids guitar lessons in Devon with me you will not have to worry about that. The guitar lessons are based around what your child wants to do, it is fun and entertaining so they learn more and it is taught in a way that fits your child's learning style. 
In other words, your child will be taught effectively and it is not done in a one size fits all way and your child will have much more fun here than if they took guitar lessons elsewhere!
But How Can I Be Sure That This Is True?
"I've never played musical instruments so I can't help him. So it was worth finding someone who knew and could teach a young child. Improving his playing has also improved his confidence.
And being with someone who does fun music and not all classical has made it really fun for him. He really looks forward to his lessons so it's something he is really interested in. It's been really wonderful."
Kirsty- Seth's Mom
I will build a customised plan for your child using what I call the geometric approach to learning which is personalised to your childs goals, wants, frustrations and learning style to make their guitar lessons as effective as possible.
Not only is this method of teaching effective, but it is so much more fun than the typical linear approach to learning. If your child is having fun playing the guitar while also being taught how to make practicing fun and effective, they are going to play the guitar more often and they will get results much faster
If the lessons are effective but boring, then your child will not want to stick at it, but if it is fun but it is flawed in terms of effectiveness then your child will not get any better and you will waste your time and money.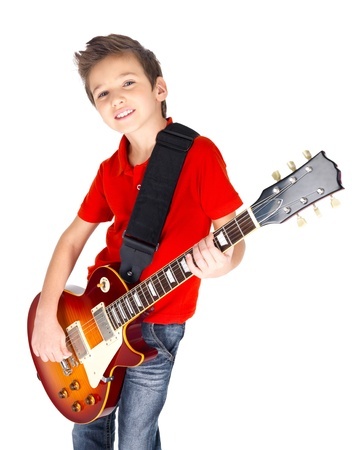 However you will not have to worry about that if your child takes guitar lessons with me since your child will be getting the two main ingredients for results in their learning:
Fun and effectiveness.
This is not possible to achieve with online guitar courses, youtube videos and books as they are not personalised to your child. Guitar courses, books and youtube videos can be great for learning some things but getting results on the guitar is not always about learning new stuff all the time.
Also these things can't help your child when they are struggling with certain things that they need help on, which is important as struggling and not knowing how to overcome those struggles is one of the biggest causes for low self confidence.  
So as you can see having a trained guitar teacher to help your child along the way is very important. I am sure that I can help your child get what they want out of guitar lessons. 
This Is What Your Child's Experience Will Be Like If They Take Lessons With Me
1- Learn a new skill which will improve your childs grades at school
2- Gain a sense of accomplishment and confidence that allows them to achieve anything they want in life
3- Improve their social skills through a creative outlet
4- Learn to play with other musicians which will improve their team work skills and allow them to make more friends
5- Gain a new means of expressing themselves by learning creativity through fun games, activities and training
6- Learn how to perform meaning that they not only play their favourite songs but you can enjoy a performance from your child
7- Get a customised plan from a trained teacher using proven effective teaching strategies meaning you will get 3 times the results from me than from anyone else
Hi my name is Jake Willmot and I am committed to helping your child become great at the guitar and for them to have as much fun as possible in the process
It is my mission to help your children get the results they want in their guitar playing which will ultimately bring them satisfaction in their lives
In fact I am so committed to helping your child that I have received guitar teaching training that I am still getting today. This is training that the majority of teachers in the world do not have.
I am the only guitar teacher in Devon that has this training, therefore I guarantee that if your kids sign up for kids guitar lessons in Devon with me your child will have the best musical experience possible.
In fact, your child's first guitar lesson with me will be free so that I can get to know your child, their goals, challenges, wants, needs and learning style so that I can ensure that your child is going to get results and learn what is relevant for them.
Click on the button below and tell me about your child's goals
Tell me about your child's guitar goals
PS- You are probably unsure about who is the right guitar teacher for your child or you probably have had some bad experiences with previous teachers. To help you decide, I am the only guitar teacher in Devon who has been trained to teach the guitar. Don't wait any longer for your child to get started on the guitar.
PSS- If your child takes guitar lessons from someone who has not received training on how to teach the guitar, then your child is not likely to get the results he wants. Even if they do it will take them much much longer, to the point where they will get frustrated, bored and maybe even quit playing guitar altogether. Their love for music could be sucked away if they take lessons with an untrained teacher and it could also leave them very unconfident and unhappy. You do not want that for your child. Click the button above to get started.